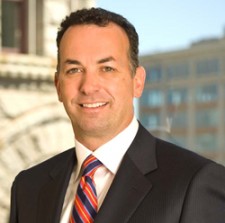 The Event Marks John's 7th Consecutive Year as Co-Chair
June 8, 2015 (Press Release) - MG&M Partner John B. Manning will return as co-chair and moderator at the upcoming Asbestos Litigation Conference: A National Overview and Outlook, hosted by Perrin Conferences, September 28th - 30th, 2015 at the Fairmont Hotel in San Francisco, California. This event marks John's seventh consecutive year as co-chair, contributing to the immense success of the event.
Perrin Conferences, acclaimed leader in joint plaintiff/defendant litigation conferences, offers comprehensive and specialized continuing legal education in an atmosphere of learning, networking and sharing. The National Asbestos Litigation Conference program provides attendees a deeper understanding of the trends currently driving asbestos litigation and the impact these trends may have on future cases.
Last year, the conference attracted more than 600 professionals representing diverse parties affected by specialty litigation, an increase of 55% since this conference was first launched seven years ago.
"The rapid increase we have seen in attendance over the years is a clear indication that we are focusing on the hottest topics and bringing the right people together," said Lynnsey Perrin, founder and CEO of Perrin Conferences. "John Manning's excellent leadership and extensive experience as National Coordinating Counsel for multiple major products manufacturers makes him invaluable. We are delighted that he again lends his strong support to make this event such a huge success."
As senior partner with Manion Gaynor & Manning LLP, John Manning chairs the firm's Products Liability & Complex Tort Litigation Group, representing dozens of major corporations in litigation across the country. John concentrates his practice in products liability, toxic torts, asbestos defense, mass torts, litigation management, food liability, professional liability, pharmaceutical and medical device litigation, environmental litigation, class actions, intellectual property litigation, and commercial and insurance disputes. He directs all aspects of the defense of over 200,000 asbestos lawsuits pending in all 50 states.
He has tried dozens of cases and has extensive experience in appellate practice, alternative dispute resolution, expert witness development, and national litigation management. John has served as an expert witness regarding issues in asbestos litigation; he is a frequent speaker and commentator on products liability litigation; and he has coordinated clients' lobbying efforts in the U.S. House and Senate to create national asbestos legislation.
"I am very proud to be a part of this tremendous Perrin Conference event, which I consider to be the gold standard for professional education and networking in the legal industry," said Manning.
About Perrin Conferences
Perrin Conferences sets the standard in professional litigation education and networking. The leading national provider of joint plaintiff/defendant litigation conferences, Perrin Conferences offers comprehensive and specialized continuing legal education in an atmosphere of learning, networking and sharing. Bringing together preeminent national talent in specialty legal spheres, Perrin Conferences ensures its events deliver innovative content, networking opportunities and career development. Attendees gain insights that cannot be found anywhere else. Follow the latest news from Perrin Conferences here and on Twitter @PerrinConf. For more information on the company and upcoming events, please visit perrinconferences.com.
About Manion Gaynor & Manning LLP (MG&M)
Manion Gaynor & Manning provides innovative, aggressive representation for clients facing high-stakes litigation. We are the law firm of choice for numerous Fortune 500 Companies and some of the most iconic brands in American business. We serve as National Coordinating Counsel, National Trial Counsel, Regional Counsel, and Local Counsel for manufacturers, service providers, suppliers, professionals, premises owners, food services companies, and retailers. With the requisite infrastructure to handle the most complex of cases, the firm defends toxic tort and environmental litigation actions in all 50 states. Find us at mgmlaw.com.
Source URL: http://prweb.com/releases/2015/06/prweb12776601.htm